HIKING HOLIDAY IN SCENA
Scena lies right in the middle of fragrant vineyards and flowering orchards on what is known as the "sunny hill" above Merano, South Tyrol. Here — at an altitude of approx. 600 m — you can "feel" the nature and enjoy its peace and quiet.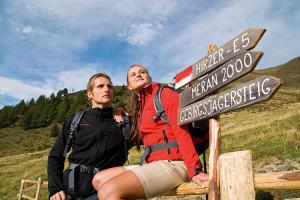 SCENA — HIKING PARADISE
There's so much to see, visit and explore in Scena and the surrounding area! An infinite number of hiking and walking paths lead directly from our doorstep into the wonderful mountain world of the Merano region and its surroundings. Don't miss the opportunity to visit the botanical gardens of Trauttmansdorff Castle.
Follow Empress Sissi footsteps on her favourite walks and discover the culinary delights of South Tyrol… or simply soak up the sun and enjoy the healthy mountain air.
No matter what your plans are... in South Tyrol the many hours of sunshine will follow you everywhere!

Here you'll find all the useful information about hiking and hiking tours:
► sentres.com
► outdooractive.com
Cycling is passion
The many cycling routes in and around Scena are very popular with both cyclists and families.
One of the most famous bike tours is the one to the Venosta Valley. Let the Venosta Valley train comfortably take you and your bike to Malles and cycle back to Merano on a beautiful cycle path. Ride through flowering orchards and historic villages and enjoy the many quiet places you'll find along the cycle path.

Scena offers the best conditions for a challenging and enjoyable cycling day, even for mountain bikers and road-cyclists. Just ask and we will give you more info about it.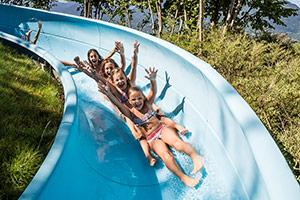 Treat yourself to total relaxation...
Enjoy the fascinating public outdoor swimming pool of Scena with its modern architecture and breath-taking views over the Merano valley with its unique mountain landscape.

There is a water-slide, a large sunbathing lawn, a children's pool, a whirlpool and a modern restaurant with a sun terrace and panoramic walkway. There are also 4 bowling alleys and 2 tennis courts.